The following is a slice of my history in bands told through
photographs. I have changed no names to protect anyone,
guilty or innocent.
Screw 'em.

Wow, wasn't I cool. This is me in 1985. I was in tenth
grade then. I was jammin' with Kip & Kev in Bastille.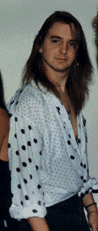 This pic was taken in '91. After a couple of years on the road
with various bands, I hooked up with some guys from L. A.
(Louisville Area, that is)
We put a little band together called Shattered Vow.
Good band, Bad timing.
(grunge sucks!)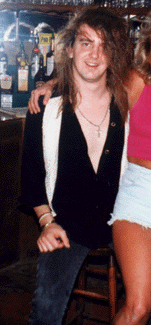 Another pic from Shattered Vow. Funky hair, huh?
Oh well, at least we had fun.

In this version of S. V., Shane left the band for a while. The
short guy was his replacement, Scotty. Then, L. to R., comes me,
singer Pat Suddeth, and bass player Bobby Chesney. Bob would
go on to join us in The Jones Gang for the first cd.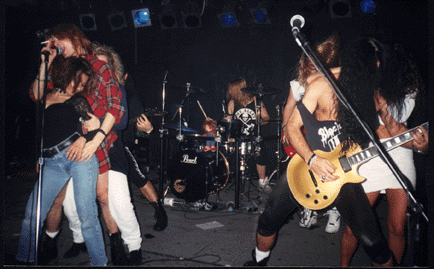 After S.V., I went on to play in a Guns 'n' Roses tribute band
called Paradise City. *NOTE* these are the rare and highly sought
after pics of me with blond hair. Not one of my best ideas.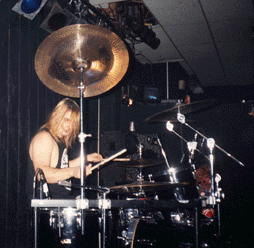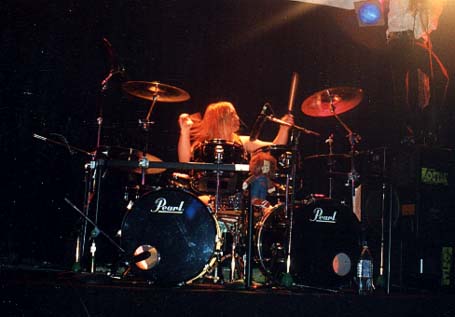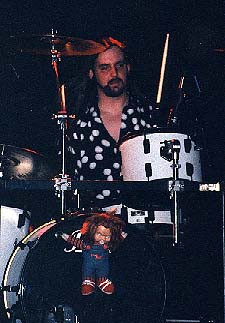 This is from about '96. It was from the first version of the band I'm
in now. We were called Jones'n and we were strictly a cover band.
This band was formed by our singer, Ronny Jones, and the guitar player
from Shattered Vow, Shane Weigleb.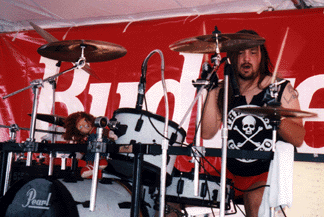 As time went on, the band split up, then re-formed as an all original
band, known as The Jones Gang. We played as much as we could,
and released an independant cd, "So Now You Know".
(Copies are still available, by the way.)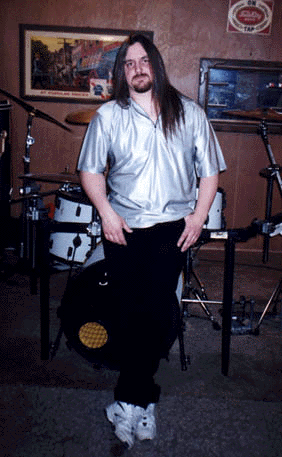 We went on to play some more, but to avoid any future legal
entanglements, we changed our name to Screaming Through December.
We recorded some more songs, made a new demo, and are currently
shopping it to labels. The only thing thats changed about this band
since day one, besides going all original, is the bass player.
We've gone through way too many of them to name, but I think
we might have our guy now, a Mr. Kent Patrick. Anyway, more writing, more playing
and more drinking is lurking on the horizon. It's all good clean fun anyway.....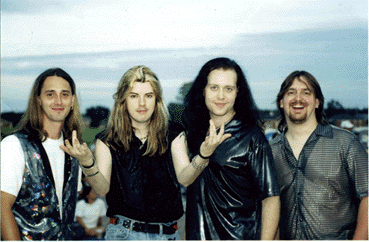 First pic with Kent. L.to R.: Shane, Ronny, Kent, & Chuck (me).
Outdoor show on July 22, 2000 which was also Kent's first show.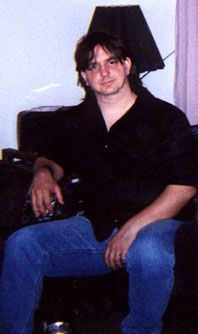 Peace, love & Rolling Rock,
Chuck